Share this post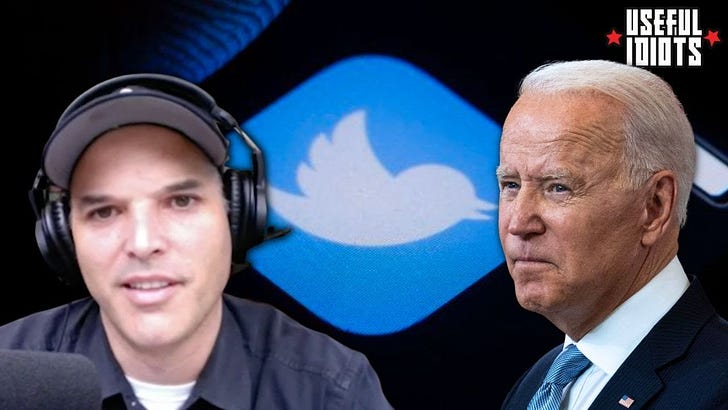 Matt Taibbi Reacts to Dems' Prison Threat
www.usefulidiotspodcast.com
Matt Taibbi Reacts to Dems' Prison Threat
Subscribe for the full episode at the bottom of the page. Watch a free preview here:
If you thought beef with Elon Musk and threats of imprisonment from Congress would stop Matt Taibbi from breaking more of "the biggest story" of his career, you underestimate the power of a Useful Idiot: Matt returned to the show this week to drop an explosive new Twitter Files.
What he and journalists Matt Orfalea and Andrew Lowenthal uncovered was Project Osprey, Twitter's secretive method of categorizing threats to the establishment as Russian agents. Twitter had two different algorithmic lists of Russians: "A Priori Russians" and "Inferred Russians," the latter including presidential candidate Jill Stein and Wikileaks founder Julian Assange.
"It's another example," Matt explains, "of how there's lots of stuff in the Twitter Files that if the quote unquote "left" cared, there's stuff pertaining to them." The reports consistently show collaboration between media companies, private corporations, and the US government to control a narrative of information and censor whatever doesn't fit into it.
As Collusion author (and "Buzzsaw" victim) Luke Harding wrote in his Orwellian view of the future of journalism: "Rivalry between media titles is a thing of the past. The future is collaboration, the hunt for evidence a shared endeavor."
Matt translates: "What these people are really talking about when they're making decisions about content, it's not just a First Amendment violation, it's not just an antitrust violation, it's a complete demolition of the whole model of how democracy is supposed to work."
And this, not Hunter Biden's penis, is the underlying theme of all the Twitter Files: "It's this collaboration between a tightly-knit group of insiders who have decided that they're gonna do this thing together without the input of the public."
For all the unprecedented revelations of government censorship and control, Matt can't understand why no one in the mainstream media seems to care about the story: "In American history there's never been a story like this."
Watch the full interview with Matt Taibbi where he responds to the infamous Mehdi Hasan interview, spills some Elon gossip, and reports on a story you won't hear in corporate media: the indictment of four U.S. citizens accused of being Russian agents for speaking out against the US government. It makes us wonder who's next.
Plus, watch this week's Thursday Throwdown: "Arm Taiwan to the teeth (for peace)"
And join the Absurd Arena live discussion board with Katie and Aaron every Tuesday at 12pm est in the Substack app.
Watch the full interview here:
Useful Idiots with Matt Taibbi and Katie Halper
Useful Idiots is an informative and irreverent politics podcast with journalist Matt Taibbi and podcaster/writer Katie Halper. Episodes feature on-the-road coverage of the 2020 campaign and exclusive interviews, with humor, commentary and dissection of the politics news of the week. Join Matt and Katie as they examine important stories that have slipped through the cracks and what the media got wrong – and laugh about whatever is left to laugh about.