Share this post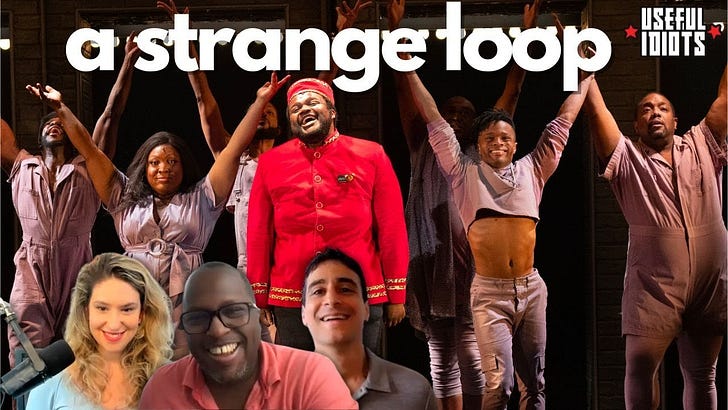 Tony Winner Michael R. Jackson on "A Strange Loop"
www.usefulidiotspodcast.com
Tony Winner Michael R. Jackson on "A Strange Loop"
Click here for the full interview with Michael R. Jackson on the culture war, racism on Broadway, and his next musical. Plus, Aaron's heated call with the Guardian's Mark Townsend.
Michael R. Jackson had no idea that a monologue he wrote two decades ago would turn into a Broadway musical that would win countless awards, including a Tony and Pulitzer Prize. And when he criticized the political establishment, including Obama, he had no idea that Michelle Obama would be one of the countless celebrities who would flock to see the show.
Nor did he imagine that Aaron Maté would fall in love with his musical and play it on loop. The musical A Strange Loop is about a Black, queer writer who has written a musical about a Black, queer writer and it's all written by Michael R. Jackson, a Black, queer writer.
Michael dishes on whether he would talk to Tucker Carlson if he came to his show, subverting the Broadway world while becoming a part of it, and how he wrote his Tony-and-Pulitzer-winning musical.
Watch the interview then go see the show or listen online. And subscribe to hear the full interview where Michael talks about the culture war, racism on Broadway, and his next musical.
Plus, Aaron calls Guardian journalist Mark Townsend, who recently named him the "most prolific spreader of disinformation" on Syria, to ask why he wasn't contacted for the story. Townsend's cowering response is a must hear.
It's all this, and more, on this week's episode of Useful Idiots. Check it out.
Hear our favorite songs from "A Strange Loop"
Useful Idiots with Matt Taibbi and Katie Halper
Useful Idiots is an informative and irreverent politics podcast with journalist Matt Taibbi and podcaster/writer Katie Halper. Episodes feature on-the-road coverage of the 2020 campaign and exclusive interviews, with humor, commentary and dissection of the politics news of the week. Join Matt and Katie as they examine important stories that have slipped through the cracks and what the media got wrong – and laugh about whatever is left to laugh about.